Are you ready to wake up your breakfast menu? Breakfast is of course known as the most important meal of the day, but it isn't just for mornings anymore – consumers are looking for breakfast meals for lunch and dinner, too.
About 30% of consumers reported that they choose to buy breakfast meals or items outside of morning hours, and are making those purchases more often than they did two years ago.
Now Trending: Breakfast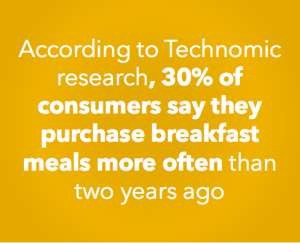 Consumers are looking not only for convenience but for exciting new ethnic flavors to add to their morning routine. That's why National Restaurant Association listed "Ethnic-Inspired Breakfast Items" as a top 20 menu trend this year.
As a trend, consumers are becoming more experimental and adventurous when it comes to dining with worldwide flavors and ingredients. They are looking beyond the typical eggs, bacon and toast breakfast, and on to new and unfamiliar flavors.
Operators can capitalize on this attitude by putting more emphasis on ethnic cuisines on their menus and moving on to chilaquiles and similar for enticing breakfast meal items. Also, breakfast isn't just for the morning anymore: breakfast foods are increasingly showing up for lunch and dinner dayparts, or becoming all-day fare.
Add a Mexican Kick to Old Favorites

While more and more ethnic influences creep into breakfast meals, operators don't have to totally overhaul their menus for maximum authenticity. According to the American Culinary Federation, operators can work in ethnic influences by adding sauces, condiments and seasonings to their existing fare.
Your Menu Descriptions are Important
A tempting menu description has the most influence on diners' decision to try an ethnic dish, according to 49% of consumers overall and 53% of older customers. Adding a photo can further help the cautious customer to understand a dish, spurring purchase. Younger consumers are even more motivated by visuals, with 40% in favor of photos and 31% adding social media as an influence.
Adding on Mexican-inspired toppings to breakfast foods is a thriving trend – adding avocado to an egg dish has grown 28% in 2018, and avocado toast is up 108%.
With a balance of smoky salsas, zesty guacamole, and perennially popular spices, Mexican foods make the perfect pairing for breakfast favorites like eggs and even waffles.